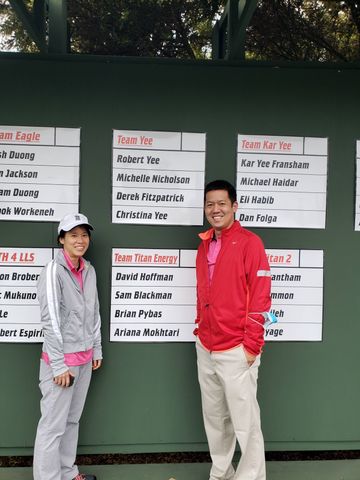 Dr. Yee participated in the charity golf tournament to help raise money and awareness for the Leukemia and Lyphoma Society and their mission to cure blood cancers. Teaming up with his sister, Dr. Yee placed second in the tournament and was part of a big effort raising an estimated $13,000 for the LLS Foundation. He also donated the Oral B iO9 Electric Toothbrush and whitening trays for the silent auction that occurred later in May.
---
October 2015: Halloween Candy Buy-Back
A big thank you to all who donated candy - over 850 pounds were collected! The candy went to our troops via Operation Gratitude, and to children around the world through Operation Christmas Child.
Thanks to our office team and Nicole's daughter Paige for collecting, separating chocolate from non-chocolate candy, and for boxing and loading the payload!
The Carr's and mascot Daisy delivered the sweets to Van Nuys, where they were added to the 400,000 pounds to be distributed. That's 20 million pieces of candy! We also shared candy in almost 300 Operation Christmas Child shoeboxes, packed by students at Sacred Heart School, Saratoga.
---
April 2014: CDA Cares Dental Event in Vallejo, CA

The entire office participated in the CDA Cares dental event in Vallejo on April 27 and 28, 2014. The following statistics tell the story of the weekend:
CDA Cares exemplifies the best of our community in action. Together, with the goal of relieving pain and infection, we're impacting lives, restoring dignity and creating smiles.
CDA Cares Solano:
$1.5 million in dental services
1,959 patients
10,655 procedures
1,796 volunteers
CDA Cares total impact:
$7.5 million in dental services
10,040 patients
51,785 procedures
8,061 volunteers
Visit our Facebook page for photos and videos from the event.
http://www.cdafoundation.org/cda-cares
Helping people who would not otherwise have access to dental treatment is incredibly gratifying. Here is what our team had to say about the experience:
"CDA Cares is really caring for people with dental needs. I was proud to be a volunteer." - TuAnh
"I truly appreciated the opportunity to work with the patients and helpful staff at CDA Cares." - Linda
"CDA Cares was a great experience! It's really a good feeling to be able to give back to the community and help those less fortunate." - Nicole
"CDA Cares is a great opportunity to help out in your own community." - Jill
"Once again this event showed that the combined efforts of CDA's leadership, organizers and venue go a long way to help many in need." - Dr. Tom
Although we were all stationed in different areas, we were able to gather and compare notes before and after our shifts.